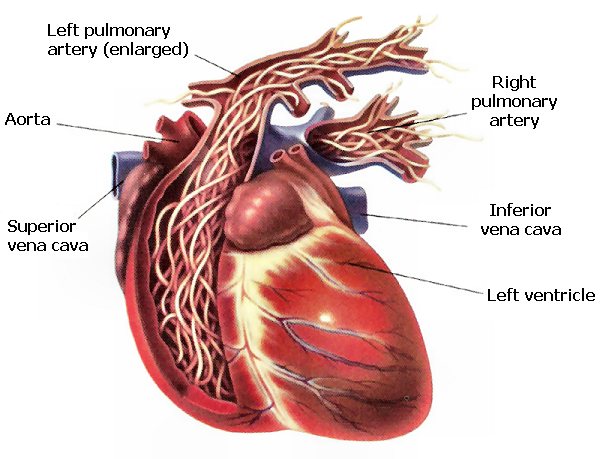 Heartworm is an important problem in dogs. It's a parasitic disease caused by Dirofilaria immitis and is spread by mosquitoes. It can cause serious, even fatal disease, and routine testing and preventive medication is an important thing for dogs in areas where D. immitis is present. Dogs (wild and domestic) are the natural host for this parasite, but other species can be accidentally infected, including people and cats. People become infected by being bitten by a mosquito that is carrying the parasite, having acquired it from an infected dog. Human infections seem to be quite uncommon and, interestingly, while this is a serious problem in dogs, it tends to be rather innocuous in people. In fact, the biggest problem with heartworm infection in people is the fact that it can be confused with other, more serious problems, leading to invasive testing.
After infecting someone, D. immitis works its way to the blood vessels in the lungs. This can result in a small area of inflamed tissue in the area. If a chest x-ray is taken, a "coin lesion" (a small, usually 1-3 cm spot) is often present. The parasite infection usually doesn't cause any problems in people, but lung cancer and tuberculosis can look the same on x-rays. Usually, open-chest surgery ends up being performed to get a biopsy of the area because of the concerns about cancer. In heartworm cases,the biopsy identifies the problem as D. immitis, which is much better than cancer, but the risks associated with having undergone such an invasive procedure are much greater than that of the parasitic infection itself.
Typically, treatment is not recommended in people because the infection rarely causes problems and people are "dead end" hosts, meaning they cannot pass on the infection. (Unlike in dogs, infected people don't have the parasite microfilaria in their blood, which is how the infection is passed on to mosquitoes and other animals).
Heartworm is a rare and rather innocuous problem in humans – it's nothing to lose sleep about.
Image: A diagram of a very severe case of heartworm in a dog, in which there are so many worms in the pulmonary arteries that there is "back-up" of the parasites into the right side of the heart, which is how the parasite got its common name.