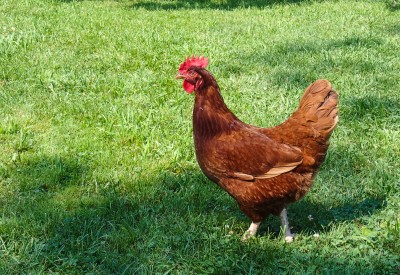 I have three kids that are all now (thankfully) past the diaper stage. I have no idea how many diapers I changed, but I don't have a huge desire to start doing it again, especially for chickens.
Yes, there are now diapers for chickens.
I understand the whole urban chicken concept. I don't actually have many issues with it if it's done right – but that's a big IF, unfortunately. Keep your chickens on your property, don't do it if you have young kids or other high risk individuals in the household, use good basic hygiene practices, feed them right, don't get roosters, and don't run screaming to the newspapers or local politicians if some get eaten by carnivorous urban wildlife. The nuisance and risk of backyard poultry can be limited.
Live chickens inside the house… that's another story.
Chickens aren't house pets in my world. I'm not sure if the chickens benefit at all from living in a house with people, and it's probably actually detrimental in many ways. I'm not sure what the benefit is to people either. Although I haven't seen any studies on this specific topic, it stands to reason that keeping a chicken indoors would be associated with a fairly high risk of widespread contamination of the household with bacteria like Salmonella and Campylobacter, two bugs that cause millions of infections in humans every year.
I'm all for risk mitigation, including using creative (and sometimes off-the-wall) measures – but diapers for chickens? Not so much.
Yet, Pampered Poultry makes diapers for your indoor chickens, and not just run-of-the-mill diapers: they're (allegedly) both functional and fashionable. This isn't the only company that sells chicken diapers either, much to my surprise.
One website states "Our chicken diapers are not just for the fashion obsessed hen. They offer your and your home protection against the inevitable! Our diapers fit comfortably and allow you to enjoy your birds in the house or car [car?] without worry."
Does using chicken diapers make sense?
I have a hard time believing these diapers are very useful. They probably do reduce the burden of pathogens that are deposited in the environment, but they are presumably far from 100% effective at containing all of a bird's droppings. It's also likely that chickens are contaminated with these bacteria on other parts of their bodies. Thinking you've eliminated the risk of household contamination from your pet poultry by using diapers isn't logical. The diapers also need to be changed (risk of more contamination) and disposed (don't we have enough waste already?) or washed (risk of cross-contaminating other items).
If you want fashionable chickens, go ahead and dress them up in diapers. Nothing says haute couture like a chicken walking around the living room in pink floral undies. Just don't convince yourself that you're reducing the infectious disease risk for other animals and people in the house. Better yet, let the chickens be chickens and keep them in a proper coop outside. I've seen too many indoor goats, pigs, miniature horses and other species with profound health problems from owners thinking they're just like people.
Apart from diapers, the store also sells "saddles" for the chickens. I'm not even going to start on that one.